(§)"=$"
closed-circuit installation, 2003
(§)"=$" is a meta mêcanique1 made out of electronic trash. A camera on a printers head sends images as ascii-data to the printer. The printout in turn is fed back to the camera as optical data which again generates ascii-data sent to the printer ... within this cycle of input and output characteristics of Autopoiesis2 have been observed.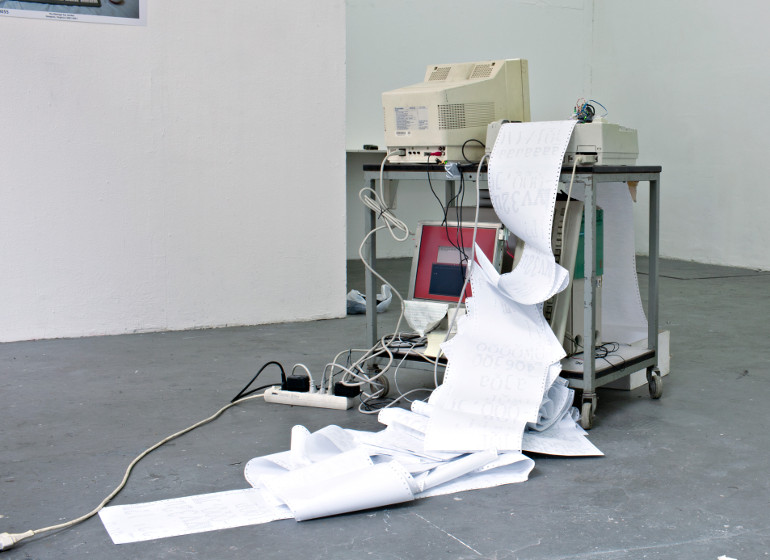 | | |
| --- | --- |
| intermedial Handshake | Camera on printerhead |
[Data]
Documentation of the project is here and further images of the installation here (.zip | 240kb)
[Presented at]
Datafitness at the EDV-Studio in the Rüdigerstreet, Switzerland, 2003
'Robots from motion to emotion' exhibition from 24.June – 4.Octobre 2009 at the Museum of Design Zürich, Switzerland. Featured within the installation HASA-Laboratories.
'UTOs-Unidentified Technical Objects'
Exhibition August 26.-30. 2011 at
V8 Plattform
Karlsruhe, BRD.
'Hagulane' - Group exhibition, 29.June-31.August 2014, municipal gallery Villingen-Schwenningen, BRD.
[Technology]
Software: GNU/Linux http://www.debian.org/, Hasciicam http://ascii.dyne.org/, control with Bash-script & Python http://python.org/
Hardware: B/W CCD-videochip on the printhead of a needleprinter, needleprinter NEC Pinwriter P2
1K.G. Pontus Hulten, Jean Tinguely: 'Meta', London: Thames and Hudson, 1975, S.16.
2self-creation, self-preservation - F. Varela & H. Maturana